Lynn Lobo brings her sardine tin collection to SALA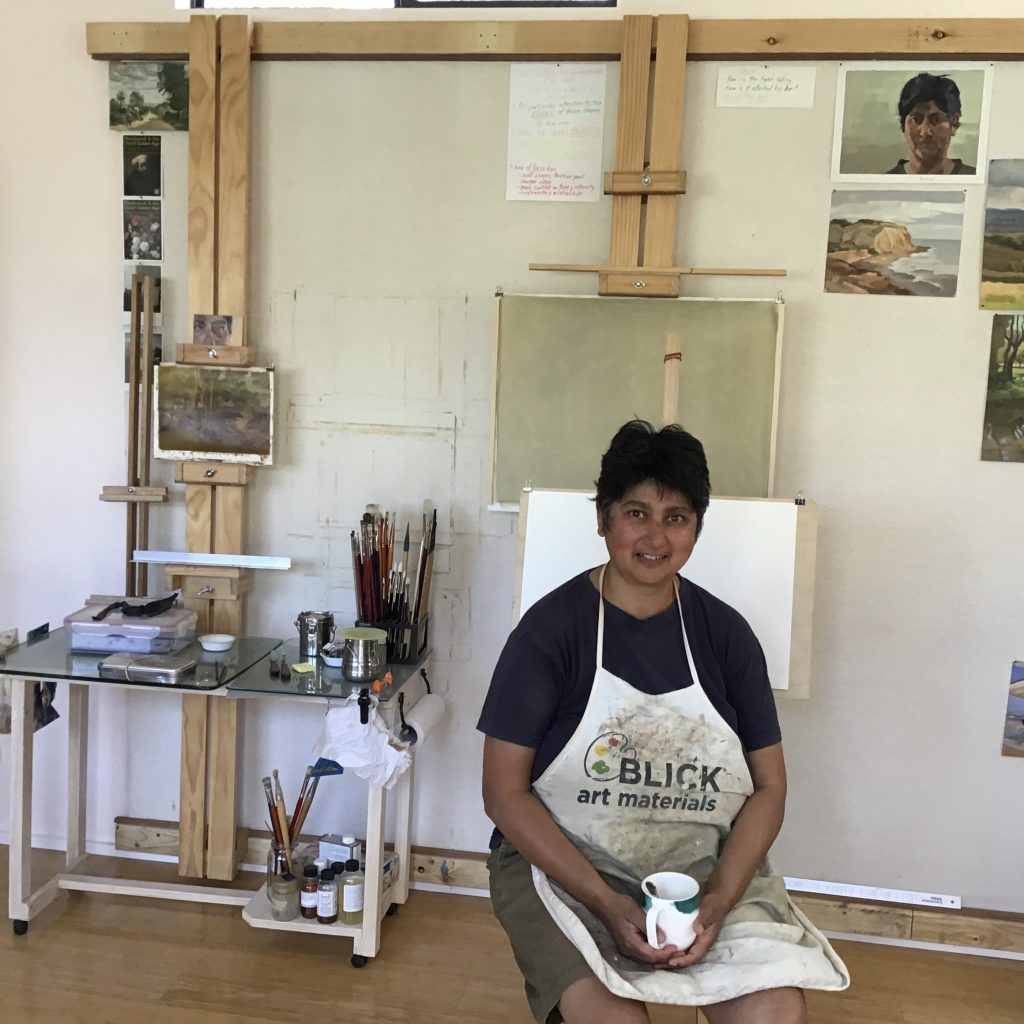 SALA is coming up and I've been preparing.  You may or may not know that SALA stands for South Australian Living Artist. It originally started as a week to celebrate living artists and has grown into a month of exhibitions and events. SALA gives so many artists an opportunity to exhibit in all kinds of different venues. It really is a great time for an art crawl.
Over the last year I've been making a series of painting based on the arrangements of sardine tins. 'Why sardine tins?', you may ask. Well, I came across these beautiful tins in the supermarket and they asked me to paint them. They felt like the essence of Italy. The colours and shape to the tins. Even the sardines tasted lighter than the pacific sardines that we get. It's hard to explain why something so mundane can be so beautiful.
I started arranging the tins to explore many compositional possibilities. I decided to set some limits for myself. I wondered, 'What if I could paint a series of 9 arrangements based on these sardine tins? What if each painting was 20cm x 25cm? What could I learn about edges, space and paint, if I knew my subject well?'
These were the parameters for my learning experiment. I did learn a lot about manipulating paint and incorporating cold wax medium. I deliberately paid less attention to developing the forms in my still life arrangements and more attention to the edge where form meets space. 'What happens to perceived colour around the edges of forms?', I wondered. It's pretty geeky I know, but a genuine inquiry discovered through colour mixing and paint.
At this point I can't say much more. The answer partly lies in my paintings that are on show at the Fleurieu Arthouse. But the answer also partly lies in your own perception. When you focus on one point, what happens to colour and edges of forms as your awareness moves to the periphery of your vision? Go ahead and try. Of course, the answer is different each time because light is always changing. The answer is your very own perception. We all see things differently.
I have 9 little painting up on my wall at the Fleurieu Arthouse. I hope you get to see them in person at some point. If you can't make it to my mini exhibition, then you can check out the exhibition online through my website by clicking the button below. I'm committed to making my paintings affordable to subvert this capitalist system. I am a living artist and I believe ordinary people can have an art collection with handmade works, lovingly gathered over time.
THE SARDINE COLLECTION ONLINE EXHIBITION New Works | lynnlobo
Exhibition details:
My Little Print Studio, Indigo Clay, Parrot and Pea Ceramics – Multiple Artists
Fleurieu Arthouse
202 Main Road McLaren Vale
1-31 August
Thu-Sun 11am – 4 pm