Meet the locals – Lou de Leeuw of Aldinga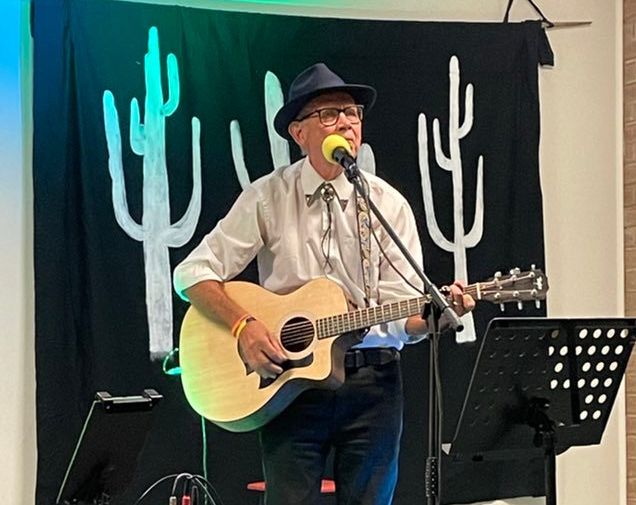 Long term Aldinga notable Lou de Leeuw is well known locally as the proprietor of Lou's Shack in Port Rd, Aldinga, and also as the instigator of the Open Mic talent quest sessions in local venues, over the past few years.
Lou's connection with this part of the Fleurieu, and with the entertainment scene in general, go back quite a long way, however, as we discovered when we spoke with him.
When did your relationship with Aldinga begin?
My grandparents first had a holiday home in Moana when I was about 5 (1956) and they eventually lived there permanently when I was about 12. So I had been connected down south since that time. My Grandfather, who was a keen fisherman, would come down to Aldinga to throw a line in with me in tow, coming down Old Coach Road which was a dirt road from Moana at that time.
Aldinga was also a holiday spot for my first wife, Sue, and her family and I would come down and stay in a shack they had access to. I was 17 or 18 at that time.
In the 90's I would come with my family to stay at the Cox Road Holiday Park, usually the week before Christmas and spend time there.
What attracted you in the first place?
In 1999 I was approached by Richard Askew who was associated with a group that was trying to develop an Arts ecovillage in Aldinga. I had seen some newspaper articles where I learnt about this. At this time, after having a Chartered Accountants practice, I had set up a consultancy called Ecobusiness Consultant. In the consultancy I had run two business and environment conferences and trade shows, raised capital in venture capital projects and written a variety of papers on business and the environment (Some with Karen). So I was ready to do something more tangible like a Ecovillage.
But Aldinga!
I went to the proposed site with my family. It was a stinking hot day and the place was absolutely bare except for some trees around the stables, then down the creek which looked like it had not had water for some time. The town itself had a general store which looked like it had seen better days, a petrol station which looked like it had seen better days and a place that sold buttons.  A most unlikely place for an Ecovillage!
I had also worked with the Permaculture group who were involved in the project in a failed attempt to establish an Ecovillage in Burra. In my time as a Chartered Accountant, I had also worked with many artists and art groups including being one of the first sponsors of Womad and also the Adelaide Fringe. So I knew what it was like to work with these two groups.
I then thought for a moment. I had written and read a lot about businesses being successful on edges (the edge of towns, cities, generally unexpected places) well this was the edge if I had ever saw one so I decided this was an opportunity.
You were one of the founders of the Aldinga Arts and Eco Village – can you talk to that? What were your recollections?
I came along quite late in the project. The arts group who wanted to establish a village had been working for many years on developing a place where art could be practised for the life of the artist and had been working with architect John Maitland. They had more recently joined with a permaculture group who wanted to establish an Ecovillage, led by Steve Poole. They had secured a parcel of land by putting a deposit down. The Government agency that owned the land had funded a feasibility study which came to the conclusion that the project could not be done, that it was going to be too expensive and there was insufficient demand. The two groups at the time had always thought that there would be government grants to do the project. They then approached me to get funds to do the project.
I did see an opportunity in the project. There was a project in Davis, California (which Steve Poole introduced me too) that was similar. It was based on Permaculture Principles, was in many was a small suburb (as the village was) and had been going for some time with people building homes and an increase in land values beyond the surrounding suburbs. Aldinga Arts Ecovillage was different than other Ecovillages in Australia. Firstly, it was big, secondly, we were lucky to have a Community Land Title where the land could be managed by the community but individual land titles issued so banks would lend money (Although in the early days this was not all the banks. including the SA Government lender Homestart), and the titles were transferable. In the end, not a cent of government grant money was received.
I thought the project was going to require a big chunk of money, the majority which was to be borrowed to install the infrastructure (which was more expensive than a normal development because of its sustainable nature). Also, once construction started it had to be done quickly as interest and other holding costs (council rates etc.) would add up fast. We also had a large group of interested parties in the arts and permaculture groups that often took some time to make decisions, which was understandable. So a separate company made up of myself, John Maitland, Steve Poole, Richard Askew , Barbara Powell and others was set up to limit the liability of the group, but also to ensure quick decisions could be made reflecting what was happening in the larger group.
What do you think of how it's grown?
I think the Village has grown into something quite special. There is a diversity of dwellings from high density to low density, socio-economic diversity, some cultural diversity and there is a diversity of age groups. My biggest regret is how business (or enterprise) has not been embraced as much as I would like. In the early days I did do a plan which showed 100 + jobs being created in the village and with the commercial section being a vibrant commercial hub for the village. This has, unfortunately, not happened.
The surrounding township has grown beyond what I anticipated showing the theory of working on the edge. I have been happy to be part of that with Lou's Shack
You're an experienced accountant who's worked with Australian rock royalty – any reminiscences? What do you think of our local music scene?
When I started my accountant's practice, I did some subcontracting to supplement that income. I was approached by an upcoming management consultancy to do some work for a rock music management agency, Dirty Pool.  Part of Dirty Pool's stable was Cold Chisel, Angels, Men at Work and Red Gum, all of whom I did some work for. Some of that work was very forensic, piecing together records from receipts and scraps of paper. I continued having clients in the music industry with Greasy Pop, Round Records and a variety of bands as clients.
I love the local music scene at the moment, with such venues as The Pepper Tree starting up, gigs in local wineries and of course Lou's Shack Open Mic offering opportunities locally…and such a great wealth of talent that is in the Fleurieu. It's all very exciting.
You've known Aldinga for some time – what do you think of all the changes?
Change is one of those things which does amuse me. Change can be easily dismissed because it makes something different from what you are used to. Change is also inevitable and provides opportunities.
Who would have thought Aldinga had a choice of cafes, a brewery, a wine bar, a bakery, a modern hotel, fish and chip shop, eating places and a fashion house to name a few.  Plus Doctors, Chemist, supermarket, a modern school. I would say it is the same people who thought an Ecovillage was possible. The growth of the Ecovillage and the skills of the people inside that (much to their surprise) has allowed all this to happen…. But I am glad that the Ecovillage will remain a refuge from those changes.
I am very proud of the work I did in being a founding director of the ecovillage. It is now a thriving sustainable subdivision that needs to be replicated as we develop other housing subdivisions.