What happened with the April showers?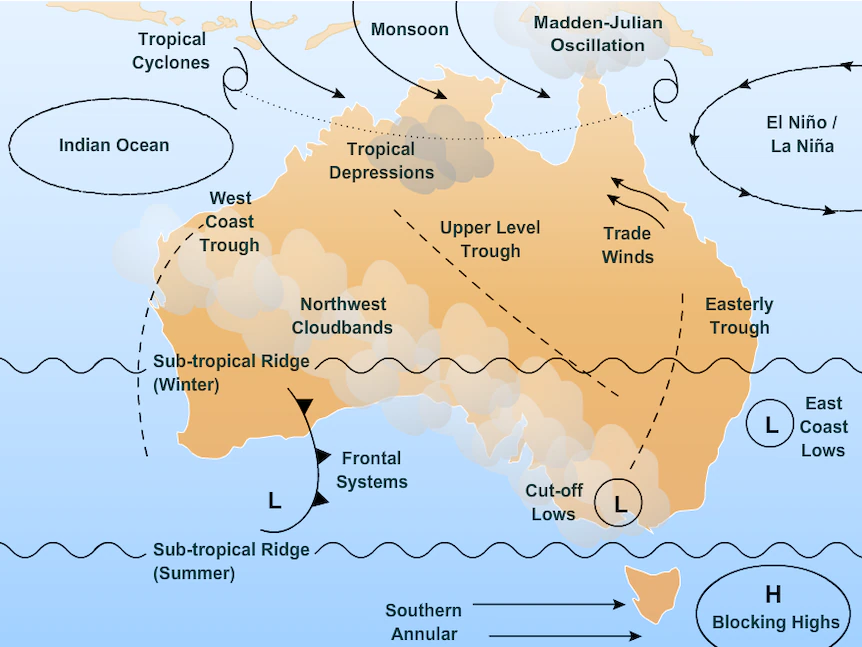 Long-term weather observer Paul Rosser looks once again at the weather.
23.0mm for April over seven days giving us 73.5mm YTD.   How does this compare to other years?
2022        23.0mm        73.5mm
2021        22.0mm        81.5mm
2020        52.0mm        110.0mm
2019        4.5mm        118.0mm
2018        9.0mm        27.0mm
2017        63.0mm        146.5mm
2016        11.0mm        105.0mm
2015        79.5mm        125.5mm
2014        40.0mm        108.0mm
2013        23.0mm        76.0mm
2012        27.0mm        142.0mm
La Niña will remain until the end of May then it will return to neutral giving Queensland & northern NSW a break from floods, until next time & there will be a next time.     I noted the governments of both of those States are talking about buying up low lying homes & moving the people to higher ground, as insurance costs are becoming unaffordable into the future.
Talking of stream flows the Murray/Darling stream flow is running at 89%, as a result of the rains in Queensland & NSW.   All irrigators will get 100% entitlements in the coming year.   We also may get some environmental water into SA as well, which will be good.
In the next three months we will get just above average rainfall, as the Indian Ocean waters around Broome are still warm, as are the Arafura Sea & Pacific Ocean.    Hot means evaporation, means rainfall from Broome down to us.    Also. the blocking highs that affect our winter rains from the south west are on the move & this will allow the fronts to move through rather than being pushed south of Kangaroo Island.  The season will break towards the end of May because of changing weather patterns.
Kangaroo Island is already feeling this affect.   My Trees for Life Farmer I've grown for over the last four years is grappling with shearing, seeding & planting the thousand trees we grew for them.   That takes our contribution up to 4,000 now over the four years.    I'm signed up to grow for them next year as well.    I find it very rewarding, especially when they send photos of the trees comparing each year.     They are pleased with the Melaleuca's I've grown for them as they are helping with their salt reduction efforts very effectively.    Ring Trees for Life (8406 0500) & become a grower, it's great.
Our temperatures will be a little above average during the day & at night.    It will be cold because it's winter – I'm talking averages.
Soil moisture is low down to one metre, so the gardens including our natives will love a drink between now & the break later this month.   Fire risk is low but not an invitation to go lighting fires while camping until after the break.
There is a possibility of a couple of Tropical l Cyclones before the season turns.     A 25mm drenching would be very welcome.      The days when we got four or five drenching us are gone.   We have had none this year.   The last years we got a 25mm drenching were 2017 & the year before, 2016.    Jenni, Sue & Anne are all telling us to buy semi-arid plants because our average rainfalls are 450mm, not the 480's we used to get.    Goyder's Line is moving south at about five kms a year now & bringing these plants I mentioned south with the move, as birds carry the seed to cooler roosting areas.   Eremophilas are the new plants to get & the Belair Nursery is catering for our needs.
Finally, when cleaning up to reduce fire risk remember, we share our bush & gardens with the rest of nature.   A couple of efforts in making us safe have totally destroyed the habitat for native animals, reptiles & birds.    Understory shrubs reduce weed growth & keep our soils damper which in turn reduces fire risk.    Please learn more about our environment before we go destroying habitat & homes for our little critters.    They own the bush & garden as much as we do, so show some respect, please.
Well, that's it for April & we've had 4.0mm so far in the first four days of May.   A good start.