Tangerine Meg creates colourful, joyous art in Aldinga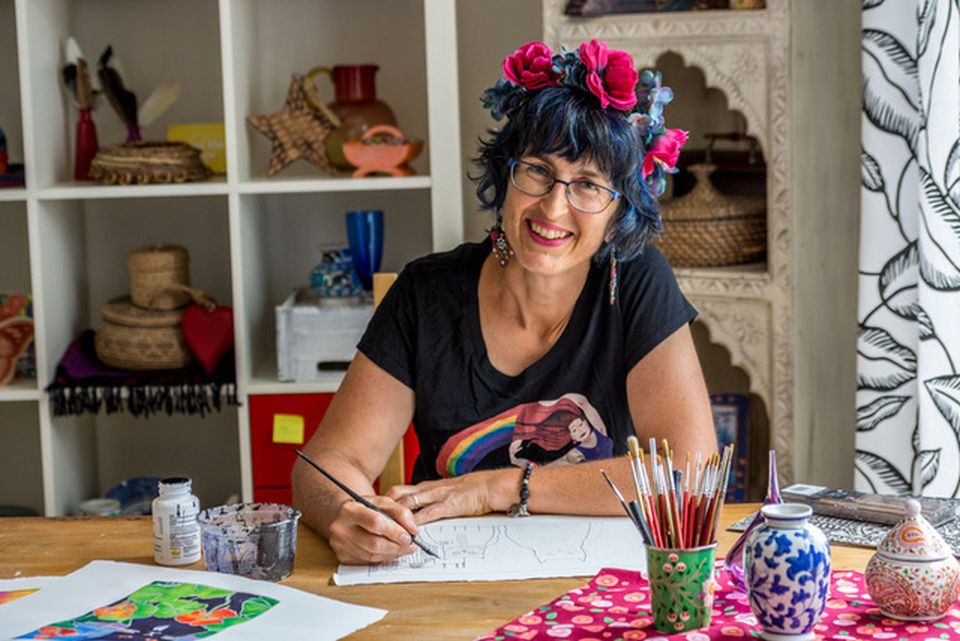 Tangerine Meg describes herself as "a quirky artist, colourful yogini, wild gardener and more."
Her artwork is well known in the local area, across the Fleurieu, and across Australia.
We asked Meg to describe herself and her art in some detail, and received the following, suitably offbeat, response.
I create colourful, one of a kind watercolours featuring vibrant flowers and produce, thrifted china, kitties, and plenty of intriguing patterns.
The big Fleurieu sky and deep breaths of ocean air, or a moment drinking fresh sights at the farmers market leave me grateful and recharged. In my home & garden I find small worlds of life & detail, inspiring original, joyful studies of everyday objects … I'm particularly drawn to the generous abundance of flowering nasturtiums and the rich colours of ripe fruit.
My childhood enjoyment of  iconic South Australian artist and educator Ruth Tuck's art lessons continued as an older student and later as one of Ruth's teachers.
Thanks to the mentorship of Ruth and her teachers, an appreciation of garden variety beauty and a love of glorious colour was awakened, along with a commitment to painting and drawing practise.
Graduating with a Bachelor Degree (Visual Communication) in the 80s and revisiting Graphic Design once computers were in use more widely, you can see why my art style is 'graphic'. When studying I little imagined that one of my greatest joys would become connecting with people whose eyes and hearts resonate with my artwork!
I've created 3 solo art exhibitions. The first, Images from Home, between the arrivals of my 2 now adult sons, the second, Happy to Be Here at Goolwa's Old Police Station in 2016, and the third, Plenty 2020 in Glenelg in 2020 – and too many group exhibitions to count!
I work from South Australia's Fleurieu Peninsula, a friendly black cat my sunny studio companion.
More info: tangerinemeg.com
I believe that each nourished soul
brings a little sanity back into the world.
My work is about making that happen with
colourful, joyous art.
About Author